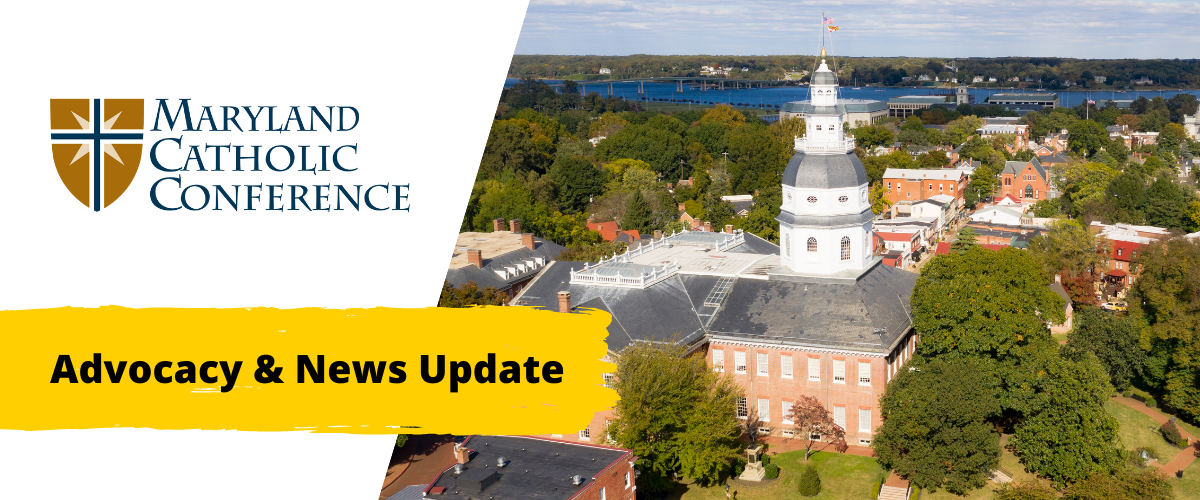 March 22, 2022 | Annapolis, Md.
Archdiocese of Baltimore | Archdiocese of Washington | Diocese of Wilmington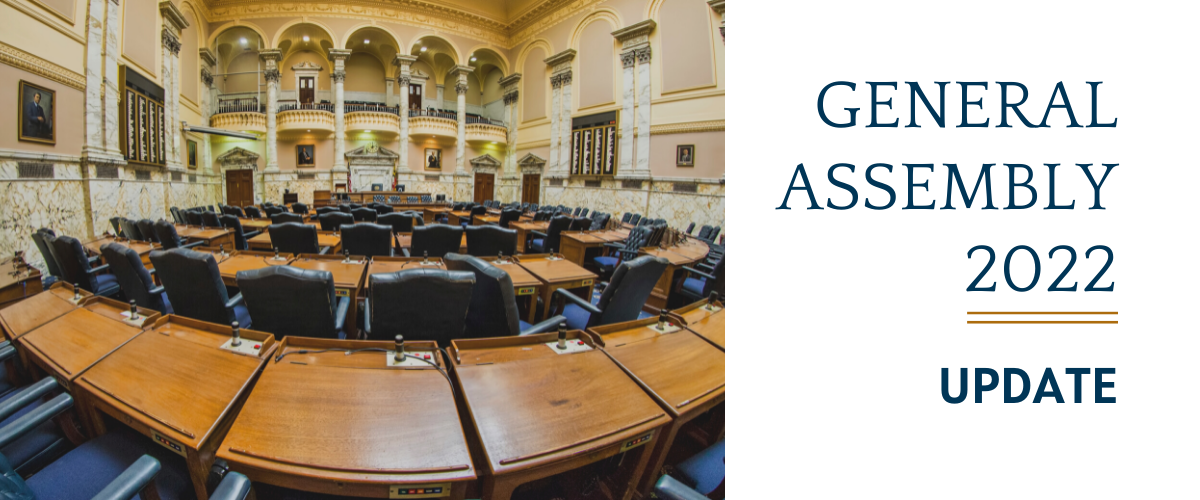 Crossover, youth justice, housing, abortion vote today
BREAKING NEWS: The Senate Finance Committee is voting TODAY (Tuesday, March 22) on SB 890, which would allow non-phsyicians to perform abortions and would expand training - with state funds. We sent this action alert to our respect life list last night. Please send your email now!


Crossover

Crossover is here! March 21 was "crossover day" in the Maryland General Assembly. This is the date by which each chamber (Senate and House of Delegates) sends bills it has passed to the other chamber for consideration and action.

Bills can be sent after this day, but the process is much more involved. Crossover day also marks three weeks until the end of the legislative session. The General Assembly added hearings this past Saturday as time grows short. Expect to see more of those!


Youth justice op-ed; bills move forward

An op-ed by Catholic University Law Professor Cara Drinan, a youth justice expert who testified before the Maryland House of Delegates earlier this session, makesthe argument that incarcerating youth leads them to be more likely to commit crimes later.
She writes, "It's time to accept that youth incarceration is not a public safety measure; rather, it's a threat to public safety. Kids in detention experience a sense of excommunication, lack of family and peer connection, severe correctional measures like restraints and solitary confinement and, too often, abuse. As a result, incarceration has a criminogenic effect on kids – put simply, it makes them more likely to commit crime in the future."
Three of the juvenile justice bills backed by the Maryland Catholic Conference have crossed over to the opposite chamber for action. These include SB 53 (Child Interrogation Protection Act), which has a hearing in the House later this week; HB 877, which ensures youth charged as adults are placed in youth facilities, not adult prisons; and SB 691, which passed out of the Senate on Monday.
SB 691, which is heading to the House of Delegates, will raise the minimum age for criminally charging a child to 13, promote the use of alternative remedies and rehabilitations, and establish a Commission on Juvenile Justice Reform, among other changes.


Housing bills move to House

Two housing bills designed to assist families at risk of eviction and backed by the Maryland Catholic Conference, SB 384 and SB 662, passed out of the Senate and are heading to the House of Delegates.

SB 384 puts a hold on certain eviction proceedings pending the outcome of a good-faith application for rental assistance, while SB 662 would allocate $11.8 million of abandoned property funds to the "Access to Counsel in Evictions Special Fund" for the 2023 fiscal year.


"Standing with moms in need"

We are continuing to monitor bills that would expand access to abortion in Maryland, including HB 1171, a constitutional amendment bill. Parishioners are encouraged to continue getting names for the Petition Against HB 1171.

On Monday, the U.S. Bishops issued a statement, "Standing with Moms in Need," that is a recommitment to supporting women and children and calls for "a vision for our society that upholds the truth that every human life is sacred and inviolable—a society in which the legal protection of human life is accompanied by profound care for mothers and their children. We exhort our nation to prioritize the well-being of women, children, and families with both material resources and personal accompaniment so that no woman ever feels forced to choose between her future and the life of her child."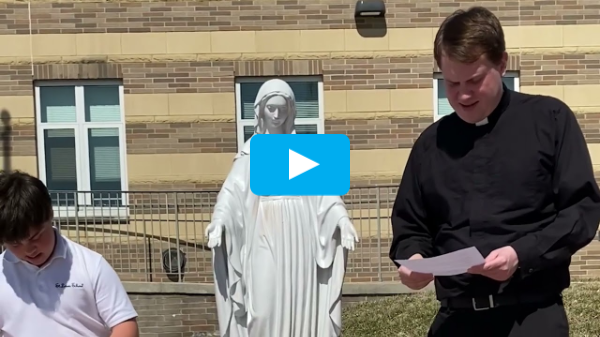 Ory Docal, Fr. Zack Crowley lead prayers
Ory Docal, an 8th-grade student at St. Louis School in Clarksville, and Fr. Zack Crowley, associate pastor, lead us in praying for our state lawmakers this week, whose work week began with World Down Syndrome Day on Monday, March 21. 

Don't forget you can see all of the prayers from this session and download our prayer text (English and Spanish) on our website.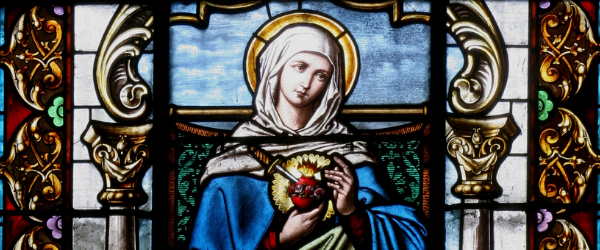 Maryland bishops join worldwide consecration of Russia and Ukraine
The three (arch)bishops serving Maryland will join the Holy Father in a worldwide consecration of Russia and Ukraine to the Immaculate Heart of Mary on Friday, March 25. Catholics across Maryland are invited to join them for Mass and the prayer of consecration for peace:
Baltimore Archbishop William E. Lori, 5:30 p.m., Cathedral of Mary Our Queen, 5200 N. Charles St., Baltimore; he also invites all parishioners to offer a rosary for those suffering and an end to the war

Washington Archbishop Wilton Cardinal Gregory, 12 noon, Basilica of the National Shrine of the Immaculate Conception, 400 Michigan Ave. NE, Washington, DC (livestream link)

Wilmington Bishop William E. Koenig, 12 noon, Cathedral of St. Peter, 500 N. West St., Wilmington, DE (livestream link)
How to help the people of Ukraine: Consider donating to Catholic Relief Services's Ukraine fund. Funds will go to help the people of Ukraine through Caritas Ukraine, CRS's sister agency.

Maryland primary moved to July
Maryland's primary election date has been moved from June 28 to July 19 following court challenges to congressional and state legislative district boundary changes made earlier this year. Early voting will be July 7-14.

Look for candidate surveys and resources for parishes from the Maryland Catholic Conference prior to the primary and general elections.
Of Note
Apply for BOOST scholarships
Income-eligible families may use Maryland state BOOST scholarships to choose a Catholic-school education for their children. Apply by April 29 for the 2022-23 school year. Details and an application are available in English and Spanish.  Please note: To apply, applicants must have filed their 2021 federal tax return or, if not required by federal law, have completed the alternative income verification form on the BOOST website.
Maryland Day
This Friday, March 25, is Maryland Day, the observance of the founding of Maryland. It was on this day 388 years ago that Fr. Andrew White, SJ, celebrated the first Mass in the English-speaking colonies, at Colton's Point in St. Mary's County.
Do you like this post?