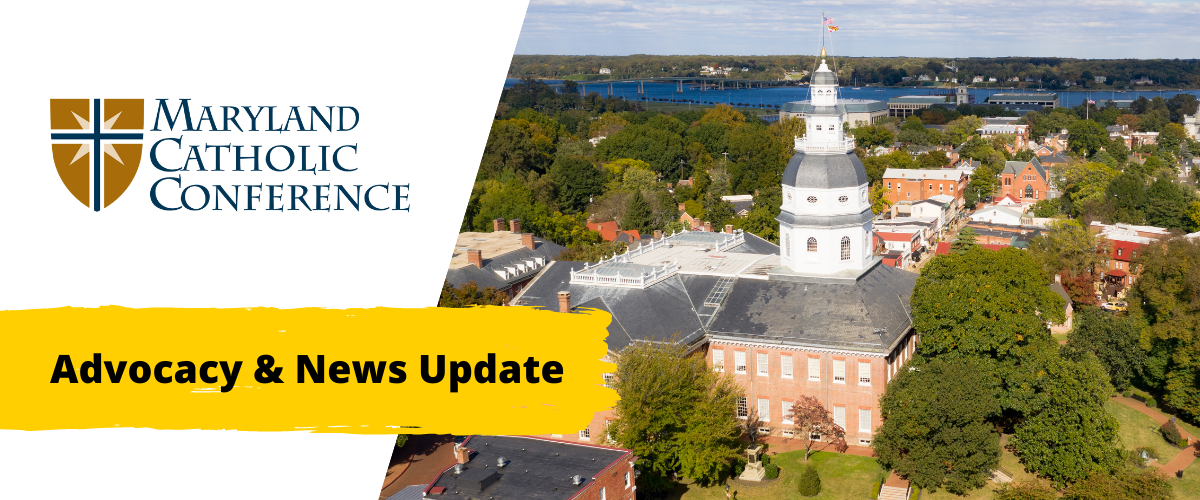 March 1, 2022 | Annapolis, Md.
Archdiocese of Baltimore | Archdiocese of Washington | Diocese of Wilmington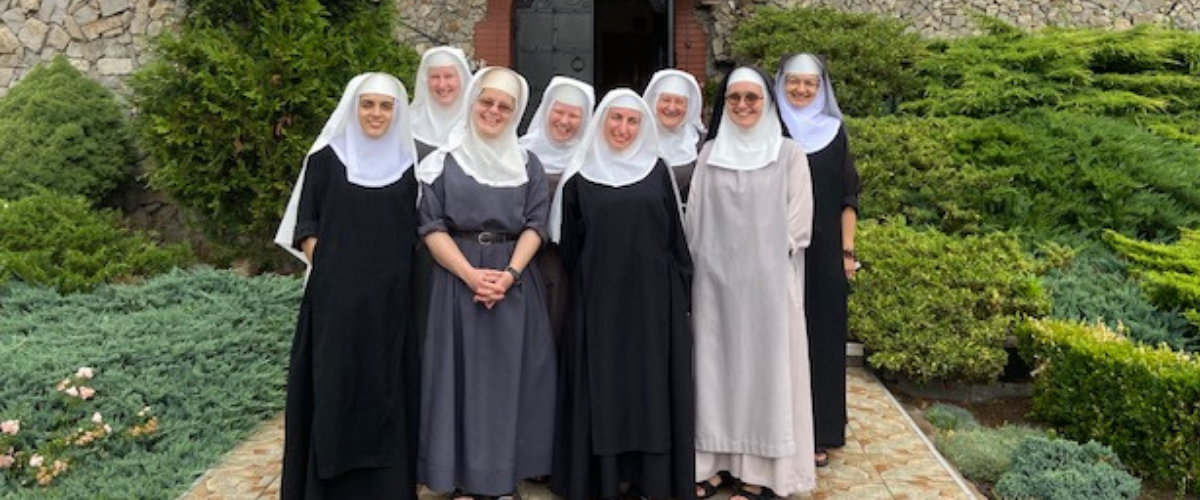 Benedictine sisters at their monastery, Zhytomyr, Ukraine, July 2021
Pray for Ukraine
As we begin our Lenten journey this week, Pope Francis has asked us to reflect on St. Paul's exhortation to the Galatians: "Let us not grow tired of doing good, for in due time we shall reap our harvest, if we do not give up. So then, while we have the opportunity (kairós), let us do good to all" (Gal 6:9-10). 

This message is especially poignant as we witness the devastation of war in the Ukraine; we must never underestimate the good that can be done in the form of prayer. 


I was incredibly fortunate to have the opportunity to spend time in the Ukraine this past July and experience the incredible hospitality and love of the Ukrainian people. Most of my visit was spent with the Benedictine nuns in Zhytomyr. My life has been enriched because of their goodness, witness, and love. 

As Ukraine struggles under a cloud of war, my prayers go out to the people in the Ukraine who have not given up and continue to do good. Please pray for Ukraine and her people, and in a special way please remember in your prayers the Benedictine sisters of Zhytomyr.

Jenny Kraska
Executive Director, Maryland Catholic Conference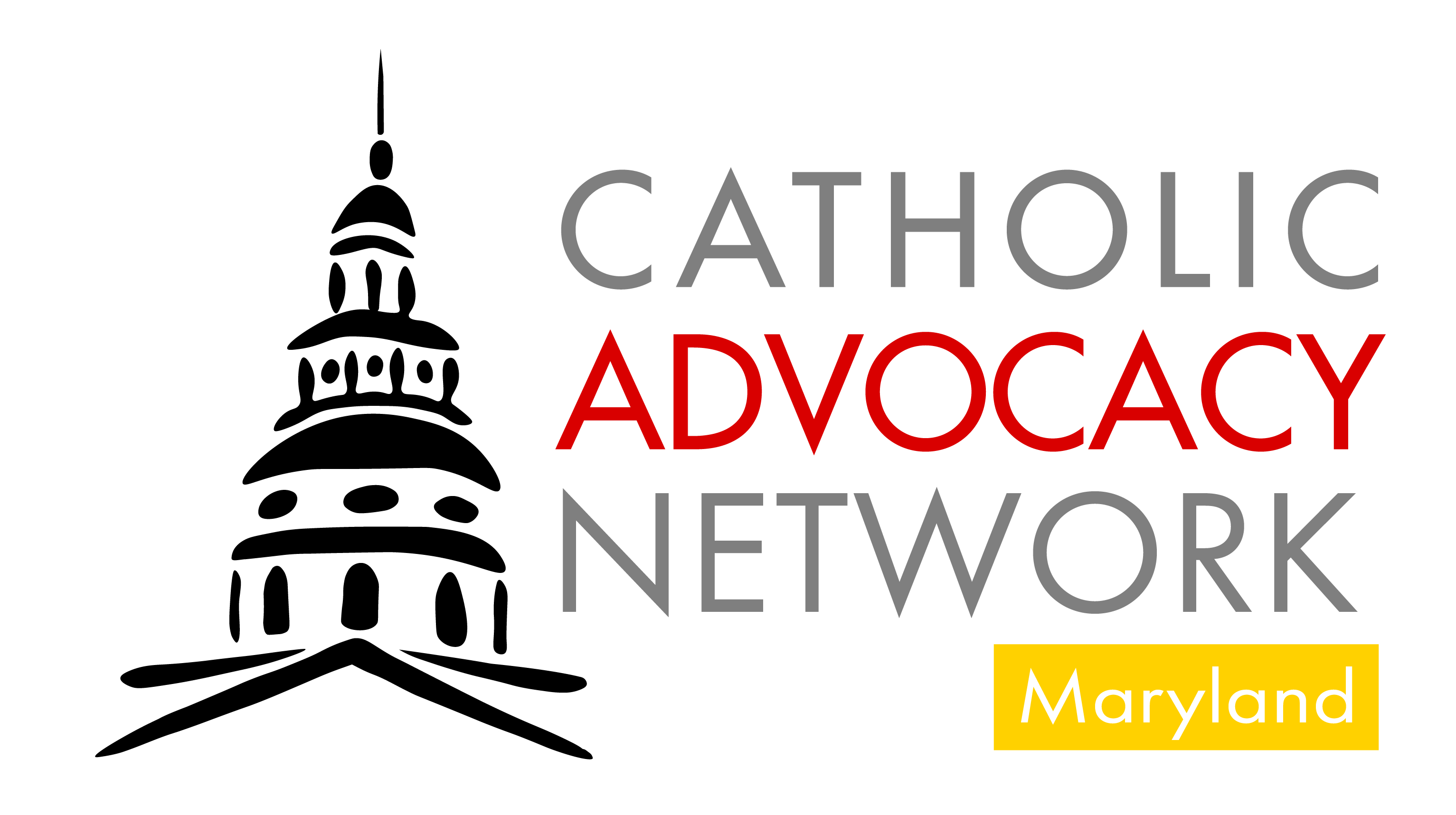 Sign the petition against Md. abortion amendment
Thank you to everyone who has been responding to our action alerts! We are hearing that your emails are being noticed!

THIS WEEK: Please encourage friends and contacts who are residents of Maryland to sign the online petition against an abortion amendment and encourage your parish to use our respect life resources - prayers for Mass and materials for Flocknote, bulletins, and social media. Get the resources here.

We want to continue to advocate for life, education, and economic and social justice. Please continue to share our action alerts from Catholic Advocacy Day and on the five abortion bills we alerted you about last week.

New! Federal Legislation Stopped

Also in the news, the U.S. Senate voted against H.R. 3755 on Monday. As the United States Conference of Catholic Bishops notes, "The bill would have imposed abortion on demand nationwide at any stage of pregnancy through federal statute and would have eliminated pro-life laws at every level of government -- including parental notification for minor girls, informed consent, and health or safety protections specific to abortion facilities."

Baltimore Archbishop William E. Lori, chairman of the bishops' Respect Life Committee, and New York Cardinal Timothy Dolan, chairman of the Religious Liberty Committee, said after the vote, "Women deserve better than this. We implore Congress to promote policies that recognize the value and human dignity of both mother and child."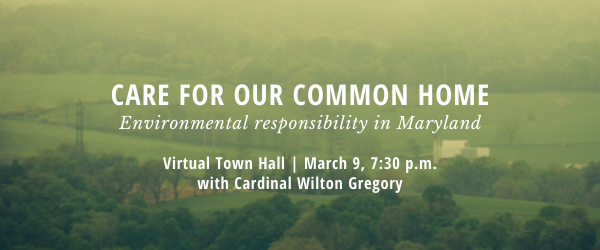 Cardinal Gregory hosts March 9 environment town hall  
Wilton Cardinal Gregory, Archbishop of Washington, is hosting our newest town hall on Care for Our Common Home, on Wednesay, March 9, 7:30 p.m. 

Participants include Maryland Secretary of the Environment Benjamin Grumbles; State Sen. Will Smith (Dist. 20-Montgomery County); Delegate Brooke Lierman (Dist. 46-Baltimore); and Jose Aguto, executive director, Catholic Climate Covenant. 

WJLA-7 reporter John Gonzalez will be the moderator. You can watch on YouTube or Facebook Live.
Born 23 Weeks after Conception, Baby Thriving thanks to Holy Cross Hospital
Holy Cross Health in Silver Spring, Md., where 10,000 babies are born every year, recently cared for a baby girl who weighed just nine ounces and was born 23 weeks after conception. Baby Heaven, now four pounds, should be heading home soon. Read and watch the story here on WUSA-9.

Meanwhile, the nurses and staff at Ascension St. Agnes Hospital in Baltimore made sure an engaged couple got married, even though the groom was in the neurology and stroke unit. Read more in the Baltimore Sun.
Vatican initiative focuses on inclusion of persons with disabilities in the Church
The Vatican's Dicastery for the Laity, Family and Life has launched a series of five videos that focus on inclusion through the experience of Catholics with disabilities. You can see the #IamChurch videos on the Dicastery website or YouTube. 

Cardinal Kevin Farrell, prefect for the dicastery, is a former auxiliary bishop of Washington.
Be a voice for hope and justice
Join the Catholic Advocacy Network
410.269.1155 | 301.261.1979
10 Francis St. | Annapolis, MD 21401
You received this email because you signed up for the Catholic Advocacy Network, have taken action on an alert, or because of your ministry role in the member (arch)dioceses.
Do you like this post?