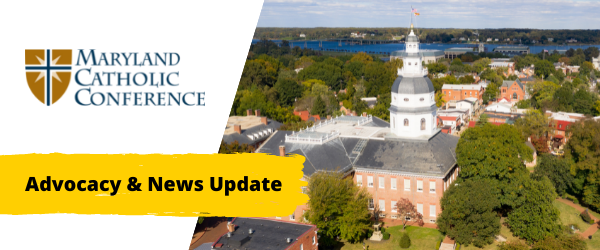 Feb. 15, 2022 | Annapolis, Md.
Archdiocese of Baltimore | Archdiocese of Washington | Diocese of Wilmington
This Week:
Environment Town Hall and Catholic Advocacy Day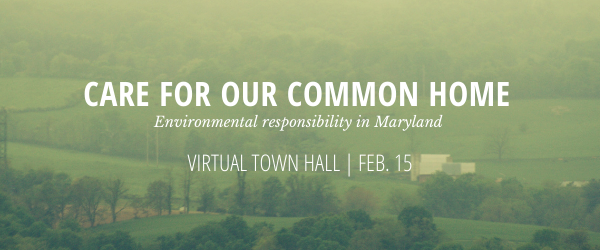 Tonight: Environment Town Hall 
Baltimore Archbishop William E. Lori will be joined by State Senator Jill Carter, Delegate Benjamin Brooks, and others to discuss environmental responsibility in Maryland during our virtual town hall. Join us on Tuesday, Feb. 15, 7 p.m., on YouTube or Facebook Live.


Looking ahead: Cardinal Wilton Gregory, Archbishop of Washington, will host a town hall on March 9, 7 p.m. Details coming soon!

Catholic Advocacy Day is Wednesday
Join Catholics from across Maryland to speak out on behalf of life, education, and human dignity during our annual statewide Catholic Advocacy Day. 

Participating is easy - it takes just a few minutes - and makes a big impact with our state elected officials. We will email everything you need on Wednesday, but you can preview the topics below.
In addition to the Advocacy Day bills, which represent respect life; education, children and families; and social and economic justice, we advocate on many more issues. We provide testimony and work behind the scenes to advocate with legislators on respect for life, children and families, disabilities, education, care for creation, immigration, human trafficking, justice reform, poverty, and more. 
Advocacy Day Action Alerts
Oppose enshrining abortion in the Maryland Constitution.
This is the most far-reaching of egregious bills on life introduced this session.
Support bonding between incarcerated mothers and their babies.
Certain incarcerated women who are pregnant or newly parenting would be able to stay short-term in a pre-release center to bond with and care for their babies.


Fully fund BOOST scholarships.
BOOST provides educational equity for low-income children to attend Catholic or other non-public schools and has benefited thousands of children.


Ban untraceable "ghost" guns.
Prohibit a person from purchasing, receiving, selling, offering to sell, or transferring an "unfinished frame or receiver" and other provisions to prevent the use of untraceable firearms.
Support comprehensive climate solutions bill.
Care for creation by reducing greenhouse gas emissions and building climate equity within communities disproportionately affected by climate change.
Be a voice for hope and justice
Join the Catholic Advocacy Network
410.269.1155 | 301.261.1979
10 Francis St. | Annapolis, MD 21401
You received this email because you signed up for the Catholic Advocacy Network, have taken action on an alert, or because of your ministry role in the member (arch)dioceses.
Do you like this post?