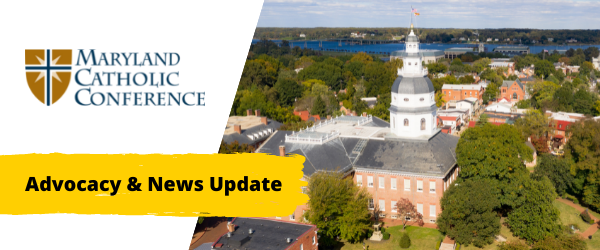 Feb. 7, 2022 | Annapolis, Md.
Archdiocese of Baltimore | Archdiocese of Washington | Diocese of Wilmington
---
Be a Voice for Hope and Justice
"We need to participate for the common good. Sometimes we hear: a good Catholic is not interested in politics. This is not true: good Catholics immerse themselves in politics by offering the best of themselves so that the leader can govern." - Pope Francis
Next week you will have the opportunity to stand with Catholics from across Maryland as we raise our voices in support of life, justice, and the common good through outreach to our legislators.

The day has three parts: prayer, education, and action. We will provide everything you need to participate virtually.

Thank you for participating in Advocacy Day, and please invite your friends and parishioners to join you. A few minutes is all it takes to be a voice for hope and justice.

Jenny Kraska
Executive Director, Maryland Catholic Conference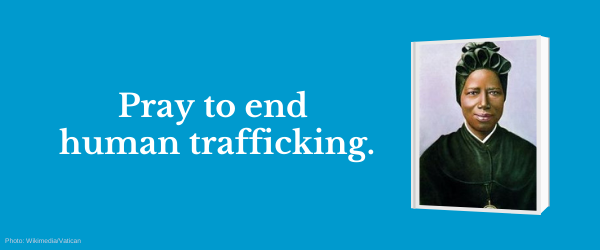 72% of Human Trafficking Victims are Women & Girls
Feb. 8, the Feast of St. Josephine Bakhita, marks the International Day of Prayer and Awareness against Human Trafficking. The Maryland Catholic Conference is supporting anti-trafficking legislation, SB 91, that would require innkeepers to keep track of guest names and to train staff to identify potential trafficking.

Help prevent human trafficking:
National Human Trafficking Hotline: downloadable flyers in 23 languages, wallet cards, and website widgets with hotline contact information
Prayer: The International Unions of Superiors and Superiors General have a prayer vigil, background, and more on this website.
Share: Use the hashtag #PrayAgainstTrafficking and join the worldwide awareness effort on social media, starting Feb. 8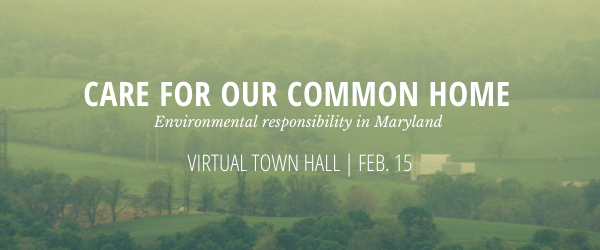 Environment Town Hall 
The General Assembly is considering a number of environmental bills. Laudato Si' makes the connection between care for creation and care for the vulnerable. Baltimore Archbishop William E. Lori will be joined by legislators and experts to discuss environmental responsibility in Maryland.

Join us on Tuesday, Feb. 15, 7 p.m. on YouTube or Facebook Live:
Most Rev. William E. Lori, Archbishop of Baltimore
Delegate Benjamin Brooks  (District 10)
Russell Dickerson, Maryland Commission on Climate Change
Robin Clark, Chesapeake Bay Foundation
Chris Becraft, Underwood & Associates
Cardinal Wilton Gregory, Archbishop of Washington, will host a second town hall on March 30, 7 p.m. Details coming soon!
BOOST Hearing this Week
An important BOOST hearing is scheduled in the State Senate this week.

The BOOST Scholarship Program provides scholarships from the State of Maryland to enable children in need of assistance to attend a K-12 Catholic or other nonpublic school. BOOST currently is funded in the state budget year-by-year. Administration legislation being considered in the Senate this week will be critical to funding this popular scholarship program for low-income families for the long term.

An action alert will go out to members of our Catholic Advocacy Network asking legislators to support SB 401. 

Please pray for the parents who will testify about the difference BOOST is making for their children. A message we received this week from one mom:

"We are so thankful for the BOOST scholarship and are praying that it will continue and that other families that are in situations similar to mine are able to experience the Catholic School education ... [and] can be blessed with BOOST scholarships like my family."

Also this week
We are submitting testimony on at least 20 other bills this week. These include HB 454, the Prevention of Forced Infant Separation Act. Certain pregnant women who are incarcerated would be able to stay in a pre-release facility during their pregnancies and for up to one year after giving birth to support bonding between mother and child.

A number of youth justice bills also will have hearings, along with a bill to ban "ghost guns," a tax exemption for persons with disabilities, sales tax exemption for purchasing diapers, and more. Testimony will be posted online throughout the week.
School Nurse Leads Prayer for Elected Officials
Michelle Sheldon-Rubio, RN, is school nurse for Cardinal Shehan School in Baltimore (Legislative District 43). We are grateful for our nurses. The proposed state budget includes $2.5 million to support non-public school nursing.


The prayer text (English and Spanish) and links to all prayers for this session are online.
Have you been redistricted?
The General Assembly has passed new state redistricting maps. Check your address here to see if your district has changed.

Check redistricting map here
Sr. Magdala Marie Gilbert, OSP, a Baltimore Sun "Black Marylander to Watch"
Sr. Gilbert, 91, has been an Oblate Sister of Providence - the Order founded by Servant of God Mother Mary Lange - for 73 years. She currently serves as director of the Mother Mary Lange Guild, which promotes the cause of sainthood for Mother Mary Lange.

Read more
Be a voice for hope and justice
Join the Catholic Advocacy Network
410.269.1155 | 301.261.1979
10 Francis St. | Annapolis, MD 21401
Do you like this post?